Return to Previous Page
Details
360 lace wig is a new arrival lace wig pre-sewed by 360 lace frontal & weaves. It comes with parting space around perimeter and only machine wefts on top.
Advantages of 360 lace wig :
Wider Parting Space: 4 inches in front& 2 inches at back. It can be parted easily.

More hair styles: Can be high ponytail, high buns and half up- half down styles.

More Natural Look: Comes with pre-plucked hair line & baby hair around perimeter.

More Density: Both 150%/180% available. Big density makes the hair much fuller.
| | |
| --- | --- |
| Pack | 1 Unit |
| Hair Type | 100% Indian Remy Human Hair |
| Photo Hair Length | 18'' (16'' Frontal& 18'' Weaves) |
| Photo Hair Color | Natural Color |
| Hair Texture | Kinky Straight Hair |
| Cap Construction | 360 Lace Wig Cap |
| Made Method | Hand Tied |
| Photo Hair Density | 180%(Extra Heavy) |
| Cap Size | Medium |
| Baby Hair | Around the Perimeter |

Customer Reviews
Review by

Dorothy

This is my 3rd kinky straight hair unit from this company, I must say I really love this hair very affordable and one of the best quality made units I have puirchased ever. (Posted on 12/2/2019)

Review by

Yolanda

Best hair ever (Posted on 6/6/2019)

Review by

Yolanda

I was very receptive about this texture. I decided an don't regret. This becomes my favorite wig. It resemble my own hair. It does curl and Straigth iron perfect. No shedding. Fully recommended. (Posted on 6/6/2019)

Review by

Kharmynni

If you still have doubts about purchasing this unit. I am here to tell you will not be disappointed. This unit is beautiful, NO SHEDDING, that's right NONE! Flat irons beautifully and holds curls well. I am definitely ordering again from this company! I am a believer!
(Posted on 3/2/2019)

Review by

LIVEWIRE

This wig is lovely! Soft and preplucked! Will order again! (Posted on 2/19/2019)

Review by

Nia2thic

U purchased this unit on Friday 12/21/2018 and received it on Wednesday morning 12/26/2018.

I will say I was very hesitant on ever purchasing a kinky straight wig but I'm sooooo glad I did.

I have a 14 inches with 180 density. The hair is soft and can take heat well.

I will be purchasing two more units come 2019. (Posted on 12/26/2018)

Review by

Ann

I purchased this wig on 10/17/18 it came within the week. So far I have worn this wig every week. I've worn it in its original state and I've flat ironed it straight. Both ways have been fabulous, this is a great wig for the price!! (Posted on 11/6/2018)

Review by

Brittney

I purchased this wig on Thursday October 18th. I received it yesterday! When I tell you straight out of the box this wig was beautiful, full, and true to length. It already comes pre-plucked and slightly bleached which I awesome. I did go in and pluck just a little bit more to my liking though. I hot comb the roots, and straightened the hair. IT IS GOREGOUS! I've been getting compliments from my co-workers all day long, and 2 of them have made a purchase after seeing my hair today. Ladies if you are looking for a wig look no further, this is it! I will be purchasing again n a few weeks. (Posted on 10/24/2018)

Review by

Amara

I love this hair. Minimum shedding (Posted on 9/25/2018)

Review by

Ayanda

I received the package. I love it!! I am surprised it had minimal shedding after I washed. I am very happy with the purchase and your service. Love you RPGhair!!!
(Posted on 9/13/2018)

Review by

Kimah

I absolutely love this wig! It arrived earlier than expected. It's soft, beautiful, looks execatly like African American hair. I had my hairdresser install it, cut it, and flat iron it. It looks just like its growing from my head. I got this wig in 130 density, 16 in. I want to purchase in a 18 in next. (Posted on 9/1/2018)

Review by

Shanna

Love this wig looks really natural. I received so many compliments on my hair. (Posted on 7/7/2018)

Review by

rachelle

love how soft this is it doesnt tangle or anything. my mother even loved how natural looking it looked on me that I had to order her own wig (Posted on 6/20/2018)

Review by

Janet

I love the hair! It's thick just the way I like it, great quality and customer service was awesome! I will most definitely be buying again! (Posted on 5/27/2018)

Review by

Meg

Very satisfied it's well worth the money!!! Took a while to be delivered but for the most part I love the wig. I purchased this wig in November Nd after multiple uses it's still in great condition! I need to reviewer how do I get started! (Posted on 2/10/2018)

Review by

Allen

Very nice wig...took a while to arrive... was a bit dry but after playing around with it I am indeed satisfied.Also BEST CUSTOMER SERVICE EVER!!!!⭐️⭐️⭐️⭐️⭐️ (Posted on 2/1/2018)

Review by

Elizabeth

This hair is remarkable!! After weeks of wear, this hair is still soft and manageable. The best part is it is still tangle free!! This wig is Everything!!! I would definitely purchase again!! (Posted on 1/29/2018)

Review by

Tiendari

I really really love it. The fit is perfect. The hair is high quality. It looks great on. The system is well made. It's a no fuss hair system . You can comb it with you fingers when styling it. The service was stellar. The price is exceptional. Receiving it was fast. My graditude to the vendor for your prompt service and quality product. (Posted on 1/23/2018)

Review by

Haynes

So I bought this for my daughter, who is natural. She wants to wear her hair out but I did not want to damage her hair with heat damage. So I got this wig and GURL!!!... she has been breaking her neck every since. the quality is great. so far not one hair has shed. I am going to buy one for myself... I mean black girls, it looks just like our hair when we blow dry it... I'm in love. Density was also plentiful. (Posted on 1/17/2018)

Review by

Ruchelle

I love it, I gotten so many compliments omg it's literally the best, true to length. could be a little thicker but is very natural looking. Free tangles and very little shedding. love it ❤️️❤️❤️️❤️❤️️ (Posted on 1/16/2018)

Review by

Rainford

This wig is everything! I honestly expected a below par quality wig, but I was pleasantly surprised. I've been wearing wigs on & off for 6 years and this is the softest hair I've ever felt. I love this wig so much, I'm really wanting others to know about it. it's great (Posted on 1/10/2018)

Review by

Jaquese

I love it I really do. I was skeptical about buying a wig from RPGhair. But I'm very pleased with the outcome. He looks very real soft and definitely human hair. Came with wig caps and nicely packaged.The hair is very soft , pretty, very easy to put on, and it looks very natural. (Posted on 1/9/2018)

Review by

Flucas

Okay so this is the first wig I've purchased and I must say at first I was nervous. When I received my wig I thought it was beautiful, I personally didn't like the length so I cut it. Beautiful, soft received many compliments about looking so natural! Thank you! (Posted on 1/8/2018)

Review by

Liset

I just got my wig today and it is awesome! Looks really natural. It brushes very easily. I haven't worn it out yet but I'm sure I'll get some compliments on it. It comes with four combs! Which can be easily fixed. If you're not sure just buy it. Totally worth more than it costed. It was really soft too. (Posted on 1/5/2018)

Review by

Pierre

I love this team, they are my go to for any type of hair. I have communicated with almost everyone on the team and kudos to you guys, you're all very great. I love my hair, the packaging alone steals my heart, the hair does not have a funny smell, it is true to length and they are full and thick, I love that free gift you include with the package. Keep up the Great work, I honestly recommend you to everyone. I cannot wait wear my hair & give more feedback. (Posted on 1/3/2018)

Review by

Burks

I am a loyal customer. I seriously love their hair, minimum shedding, This is the second time ordering and I'm even more pleased. pictures will be posted (Posted on 1/2/2018)

Review by

Tesha

The shipping was fast. Hair came within four days the hair was very soft and nice. It was a smell to it but after treating the hair the smell was gone. Overall good price for the hair will buy agian. (Posted on 12/29/2017)

Review by

Jess

This wig is perfect for me. I have been wearing wigs for a long, long, time and this is the BEST wig EVER!!!!!! I can style it so many ways. I am so glad I ordered it and I will be ordering it again. (Posted on 12/28/2017)

Review by

kenye

Shipping was quick. Hair appeared to come as described. really soft and I was referred to the hair by a stylist and I love the quality ...little shedding but nothing dramatic. Hopefully it will still be good tangle free hair. Will update In 2 weeks (Posted on 12/26/2017)

Review by

Amanda

The entire experience was awesome. The customer service was great, the shipping was fast, and the hair is beautiful, very thick and full,The seller kept in contact every step of they way, and for the prices to be so low, they hair is suchhhh good quality. I will DEFINITELY continue ordering from this seller, I encourage you to as well. (Posted on 12/25/2017)

Review by

Smith

Hair is very kinky. I love it! And it came in vvvvvvvery fast! It is the same hair that was advertised. Love it. I have wet and washed it and it's still soft it's really beautiful and just like the photo.,I'm very satisfied with this seller. Thx! (Posted on 12/22/2017)

Review by

Abenaa

This hair is EVERYTHING ! I order the hair on Thursday got it on Monday was VERY excited about that. I forgot to take a pic of the hair but they were very full . The hair is very soft and so far no shedding. I got 18" 150% . Very happy and satisfied with purchase. Highly recommend seller and product! (Posted on 12/21/2017)

Review by

Johnson

The product came on time . It's of the best quality . It was actually a Christmas gift to my wife . I really appreciate. Will shop with you again anytime the need arises. Thank you!!! By the way, my wife is so happy with it. It's a big and wonderful surprise!!! (Posted on 12/19/2017)

Review by

Patrice

Super quick delivery to the UK. The hair is really silky and soft and the hair is super full. I got 20inchs, this wig is SO good! it's doesn't have weird smell, it is real 100% real hair. It's the perfect amount of fullness and is exactly as pictured. for the price it's perfect. It's my new fave wig I'll buy more from this company. (Posted on 12/15/2017)

Review by

Annakay

I never wrote so many words for a product, but this time,i want do for the best hair!!!!!!!!!! I am not the first time to buy the hair , the nice seller never disappoint me,i bought a wig with 18 inch frontal hair, the shipping time is quick fast !!!i got all in 2-3 days!!!when i opened the hair, it packaged very well , i really happy with it , and the seller communication was nice, Luna answered my all questions,i was little nervous before buying ,but now my worries is unnecessary!!!I washed the hair , I style it , without shedding and tangling, so so so soft and shiny, i keep the first hair i month now, it seems new hair , still soft and shiney , no tangle ,no shedding!!!!!!I got so many compliments from my friends !!!!it is best hair i ever got !!!!!!i recommended my friends to buy it !!!love love love love it !!!Best hair in RPG !!!thanks so much for your great quality hair and good service!!!you got a regular customer. (Posted on 12/15/2017)

Review by

Allante

Hair is top quality I never ever have an issue with their hair,The hair shipped really fast. ordered on Mon and got on Wed, there was only one thing, when I got the hair the ends were a little dry. I washed and conditioned it and it looked better. I notified the seller and they tried to work with me. Good services and quality in all. (Posted on 12/14/2017)

Review by

Deveisha

It's my first time ordering a wig from rpghair. I have to say I was skeptical at first but I just had to give it a try. My order arrived 8 days after placing it which was quite fast! The hair was beautiful from first glance! Density is really good, the hair is super super soft, natural color , adjustable strap. I co-washed the hair and got very minimal shedding, no tangles at all despite it being 20" long. I'm very satisfied and can really recommend rpghair. customer was very friendly and gave instructions on how to handle and care for the hair, there was a follow up after I received the hair, so really great (Posted on 12/12/2017)

Review by

Daizy

AMAZING.... If you want to have that look like the one on the picture, you should definitely buy this wig. Communication with the company was excellent and shipping was super fast. Arrived it after 3 days. The wig is super full and so soft. No smell and the packaging itself it's beautiful. I recommend this company and i will be buying again from this store. (Posted on 12/12/2017)

Review by

Kimberly

I received my wig today. Reasonable delivery came in exactly a week. I got 22" nice and long. The hair is soo beautiful and soft, no shedding so far ! This wig is very natural, the density is perfect not thin at all. I didn't need to pluck the hairline, I played around with the frontal to get the best out of it. Overall I am very pleased with my purchase and would definitely be purchasing another wig from here !! Highly recommend!! (Posted on 12/11/2017)

Review by

Tiffany

The order was very fast,Luna was so helpful and good at keeping me updated. The texture was so good with no shedding. I bought the hair for my sister and she was beyond happy when i gave it to her! Its more than expected.. I love the hair, definitely will buy more and more! (Posted on 12/8/2017)

Review by

kayla

Beautiful hair, extremely soft, minimal to 0 shedding, no tangles. But one of the best thing about this about this wig is that everything comes ready for you, pre plucked natural hair line so it is very good for beginners! The communication is also amazing you can tell rpghair cares about their customers, I also ordered on a Friday and received my order the next Tuesday so also fast shipping ! (Posted on 12/8/2017)

Review by

Asria

this is a very natural looking unit. the unit has a decent amount of parting space. the 360 lace wig is full, the hair is soft and true to length. there is very little shedding, no weird smell. the lace and the baby hairs on the unit are nice too, the 360 lace wig looks just like your real hair. shipping was fast, 3 days total. the customer service was great and they do answer your questions right away. thanks alot . overall this is a nice unit. this 360 lace wig is worth a buy. will update with pics in a couple of weeks. (Posted on 12/5/2017)

Review by

Kawanus

This is a really nice wig. I requested it to be 150% density. It's just right but I think the 180% would be perfect. It tangles a little. Could be static from my clothes but it's not too bad. No shedding. No smell. I ordered it Thursday late PM (PST), it got here Tuesday by 9:30 AM. I would definitely order from rpghair and recommend it to a friend. Can't beat this quality at the price. (Posted on 12/4/2017)

Review by

Walls

I was intially really excited about this purchase, I visited several stores read the reviews and ultimately decided to buy from rpghair. The hair arrived quickly and was super soft, I'm very pleased with this wig. It's absolutely beautiful. I've received a number of compliments on it. It's my best wig ever. Will definitely purchase from Betty again. The customer service is superb! (Posted on 12/4/2017)

Review by

imelda

It took me sometime before I wrote this this review. Not because this hair isn't good but because I wanted to see how well it was. Let me say that this hair needs to be adjusted to your likings and that's any hair. After washing it,it has an amazing wave to it. Blow drys really good but I mainly let it air dry ( I was being lazy). Overall this hair is very good. I sleep with this hair and my head scarf NEVER STAYS ON but this hair holds up to my wild sleeping and hair that does that is amazing!!! This ain't a fake review this hair is really good I was able to fool a lot of people into thinking I cut my real hair. This is the perfect hair to use (Posted on 12/1/2017)

Review by

George

I love the texture its so soft and light and my friends think it's my hair. Lovely and it got here in top time. Will definitely buy from rpghair again. (Posted on 11/24/2017)

Review by

Hawkins

very beautiful and soft hair the wig is well made ....Will definitely be buying from rpghair again....thank you Joyce, good customer services. (Posted on 11/21/2017)

Review by

Hart

Love the hair!!! Love the hair!! Love the hair. I will be ordering from here again. The hair came in fast, The hair is very kinky and I've gotten so many comments. (Posted on 11/20/2017)

Review by

Ericka

This hair is EVERYTHING!! It's so soft and long ! I recommend it to everybody I know ! It came in TWO DAYS as well ! If you were thinking about buying it , do it . You won't regret it (Posted on 11/17/2017)

Review by

Jan

I bought this 360 unit in 16inches, Great & fast delivery! Ordered my unit that Tuesday, got it within that same week Thursday! Hair feels & smells great! Will be ordering from this hair company again (Posted on 11/17/2017)

Review by

Thomas

I received the hair extremely fast which is very satisfying, the hair is beautiful soft. I will most definitely keep you guess updated with this hair. I love it!! (Posted on 11/16/2017)

Review by

Tania

I'm Soo In love with this unit! Its Super soft and tangle free. . best wig I've purchased! (Posted on 11/15/2017)

Review by

Clydia

Soooooo amazing!!! definitely will order from here again and again. no smell, nice and soft. it's amazing hairline created already. baby hairs amazing! shipping was super fast, only 3 days (Posted on 11/14/2017)

Review by

Alicia

Both the hairs that I bought, we're received on time,they were soft,full I will recommend most of my friends to buy from you.The transaction was good and I can rate more than five stars,I'm thinking of buying another set. (Posted on 11/13/2017)

Review by

harris

Love this hair! Its very soft and I haven't had any shedding. Probably my favorite lace wig I've bought. And the communication was excellent & made sure that you got exactly what you wanted! (Posted on 11/10/2017)

Review by

Ciandra

Loveeeeeeeeeee the hair!!! very fast. ordering will be with you again. its true to length hair (Posted on 11/9/2017)

Review by

Nadia

Yassss Honey, so far so good! I love the texture, the look and everything! (Posted on 11/8/2017)

Review by

Nicholson

Super good hair! Love this kinky texture. I ordered 3 different wigs and they were all great. (Posted on 11/8/2017)

Review by

Heather

I Absolutely Love This Hair... No Tangling... Minimal Shedding... And NO SMELL... I Will Be Ordering Again (Posted on 11/7/2017)

Review by

Kali

This unit is beautiful! So kinky. very natural. I ordered her in a 18 inch, ladies, you will not be disappointed. (Posted on 11/7/2017)

Review by

Clay

I absolutely love this hair so far! It's so unbelievably soft ! And beautiful, it flows with the wind lol , I did the human hair test on it and it is in fact 100% human , (Posted on 11/6/2017)

Review by

Kaiyla

I loooooove it. the lace is nice and soft and the hair is amazingly soft. No smell ,no shedding!Definitely buy again. (Posted on 11/6/2017)

Review by

Karen

I live in the U.K. It only takes 4 days for me to receive it. Super fast delivering!!! Hair is amazing, super soft and a decent thickness.It looks natural. Will defiantly be buying again!!! (Posted on 11/2/2017)

Review by

nona

Thank you for quality hair. Fast shipping and excellent communication. (Posted on 11/1/2017)

Review by

Ephraim

Love the wig so much ! It's so soft and straightened very nicely. I wore it for my birthday and loved it. (Posted on 10/30/2017)

Review by

Shari

I love the hair. It is so soft and I will buy more hair from this company. I wear this wig when I go to work and grocery shopping. People always complimenting me on my hair. The seller had great communication skills and the package came with great hair care tips!!!! I love my wig and I will get more from this company. (Posted on 10/26/2017)

Review by

Ahjanae

It's very soft ,and no smell ,I will order another soon,happy customer!! (Posted on 10/23/2017)

Review by

Jazmone Jenkins

Got my Wig! Fits perfectly! Im absolutely in love with it!
Amazing job! Customer Service was also amazing during this return process! (Posted on 10/23/2017)

Review by

Nicole

The hair was very soft at first, but after straightening it, the ends seem to get a bit frizzy and I couldn't run my fingers through the hair as easily as before. It came pre-plucked with baby hair, but I cut more baby hair out because I didn't think they left out enough for my liking. I curled the wig and it holds curls with no product added for a couple of hours. Overall I am a satisfied customer and will definitely be purchasing from RPG again in the near future!! (Posted on 6/20/2017)

Review by

Diane

I received what I was expected. Service is excellent. :). Thank you guys (Posted on 5/29/2017)

Review by

Stacey Sanders

I love this wig!! The texture is absolutely gorgeous!! Thank you. I will order another one soon...but longer. Happy Customer!!

One thing...it is a little big on my head...and I ordered a small. Hopefully the elastic band will help secure it. I'll definitely make it work.

Thanks,
(Posted on 5/22/2017)

Review by

Ericka howard

I love this hair! (Posted on 4/28/2017)

Review by

Ericka howard

I LOVE THIS HAIR!! All Hands down (Posted on 4/28/2017)

Review by

Que

This hair is gorgeous,beautiful soft luxurious super full but when you first get it theirs so much hair i didn't know what to do with it but after i pressed it out and styled its so pretty the only thing I didn't liked was the shipping it was really long (Posted on 4/24/2017)

Review by

Patricia

I received the hair this morning and I must say that I really love it. It mimics my natural hair. I haven't tried it on as yet, but I will before the week is finish. Thanks . I guess i can say it was worth the wait.
(Posted on 4/21/2017)

Review by

Rhosa

Omg (Posted on 4/11/2017)

Review by

Shaq

Bought this wig because I was getting tired of hair extensions, but wanted something similar to my natural hair texture. This wig is great because it matches my natural hair when blown-out and it's simple to put up.

My only complaint it that it doesn't seem to take heat that well - even on the lowest setting, it smells as if it is burning. Other than that, it's great to wear as is. (Posted on 3/25/2017)

Review by

Ren

I received my 18 inch 130 density unit and it is truly an amazing value for the price. It is very thick, and beautiful, the color is super natural, minimal shedding so far. Customer service was also great. I will be wearing this unit for a very long time (Posted on 3/6/2017)

Review by

Kelley

I'm so happy that I got my hair today!! There's no smell with it, and Good Quality & Soft~ (Posted on 2/16/2017)

Review by

Love

I received it yesterday and I love the hair. I will be ordering from your site again, very affordable and great quality :) (Posted on 1/20/2017)

Review by

Tessie

The hair feels absolutely amazing! There is no tangling, and a little shedding, I am beyond in love! (Posted on 1/16/2017)
Write Your Own Review
Hair Color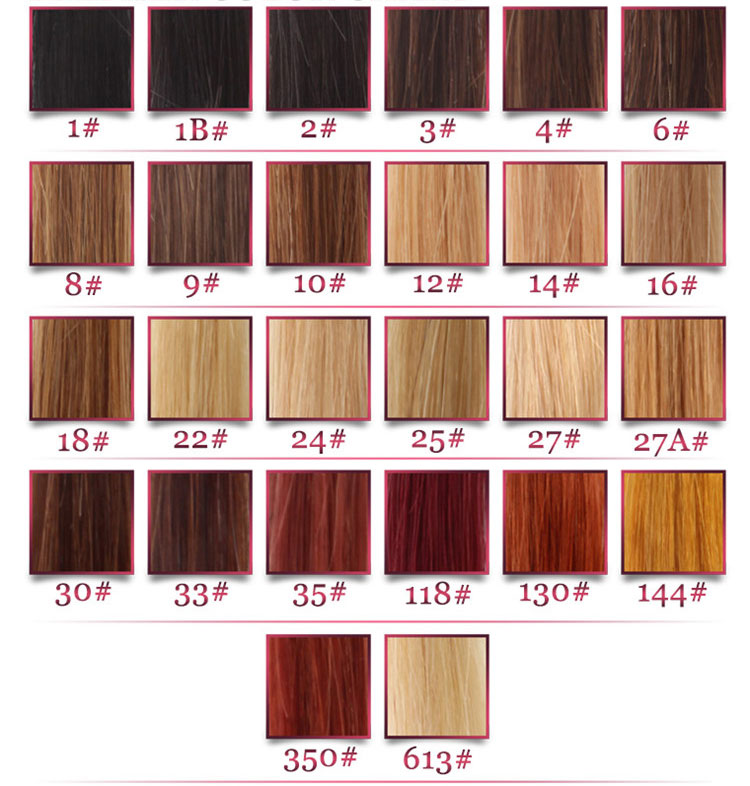 Shipping
1. We ship your order by DHL or FedEx. We do Free Shipping for all orders worldwide.
2. If your shipping address is P.O Box or APO/FPO address, we can ship your item by Post Office.
But it takes longer time to reach you,about 7-10 business days.
3. We ship all items marked as 'gift' or 'sample', and we also write a lower value on the invoice to
avoid tax/duty.If you were charged tax by your local Custom, we would like to help you to go through theCustoms.
But the tax will be paid by the buyer.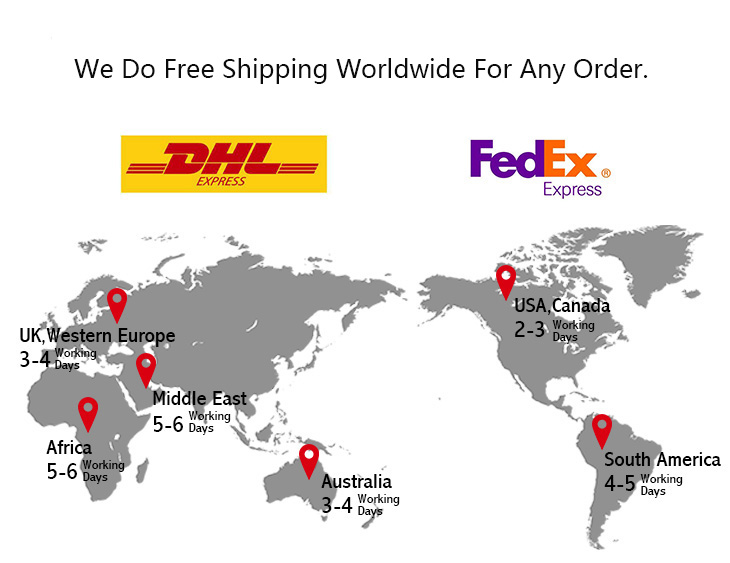 Processing Time:
A. Stock item will be sent within 48 hours after payment.
B. Custom Order for Lace Wigs:
Processing Time: 25-40 working days
Shipping time: working days
(We'll email you the custom order number and estimated delivery time after receiving your order. After the hair is ready,
we'll send you another email with tracking number. )
Tracking
Tracking number will be sent via email once the order has been arranged or shipped. So please leave us valid email address.
We share a strategic cooperation relationship with the world's popular express company DHL & FedEx. You can track your package
on the website as below,
DHL: www.dhl.com
FedEx: www.fedex.com
If you have any concerns about your order or our hair, please feel free to contact us. And we'll reply you within 24 hours. Our email
address is: [email protected]
We are more than happy to offer Exchange and Return Service if you dislike the hair you received for any reason.
Please Contact us via email within 7 days after receiving. Our email address: [email protected]
For Exchange, there is no extra fee for the first time exchange.
For Return or 2nd time Exchange, $25 shipping fee will be deducted as we paid to express company when we shipped
the item to you.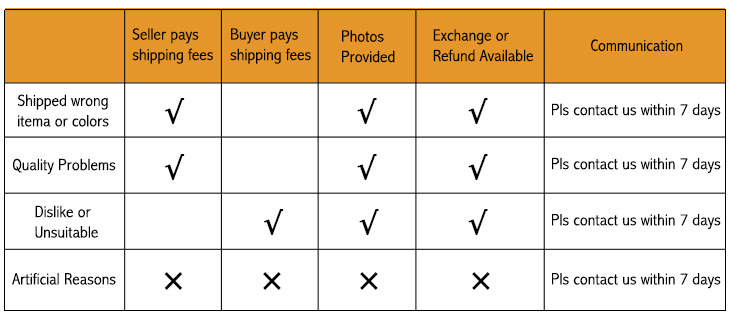 Please note that:
1. The returned item must be in its original status;
2. Items that have been worn, combed, cut or washed cannot be returned;
3. Any customized item cannot be returned.
4. Customer is responsible to pay the returned shipping fee;
5. Please contact us before shipping the item back. Otherwise, we have the
right to refuse the returned package without our permission.
Our email address: [email protected]
RPGhair Co, Ltd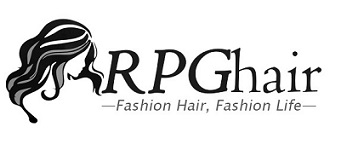 1. Are your Products made of 100% human hair?
YES. All of our products are made of 100% human hair.

2. What are Lace Front Wigs?
Lace front wigs are manufactured with a thin lace that extends from ear to ear across the hairline.
Lace front wigs are made similar to a regular ladies wig along the back and sides of the unit.
There is extra lace in the front, and you need to cut the lace along the front of the unit. The goal here is to create a new hairline. You will not cut all of the lace, as you will apply adhesive to the lace/your new hairline.
Once the unit is applied, you will have on a full hair wig - but the front of the hair wig will not be like a regular wig. The wig will appear that it is growing directly from your head.


3. How much Parting room for the lace front wig?
There is about 3 inches parting room in the front .
4. What are Full Lace Wigs?
Full lace wigs come with a base that is made entirely of lace. The lace material essentially covers the whole head even all the way to the back. Because of this, full lace wigs are more versatile because you can also style them into up-dos, braids, and many other hairstyle that are not possible with a front lace wig such as a high ponytail. It just gives you more natural flexibility.


5. What's Natural Hairline & Widow Peak Hairline?
The natural hairline is straight hairline, and it grows out of the scalp straightly above forehead. The Widow's peak hairline is 'V' shape. The stock unit comes with Natural Hairline.




6. Do you charge any extra for baby hairs?
No, it's free of charge. The stock units all have baby hair around the perimeter.

7. Can I color the hair?
Yes. The hair can be colored. (If the hair color has been processed to other colors instead of Natural color, please don't do bleaching or dying.)
But we highly recommend you having your hairdresser dye the hair because they are more professional and you could get the color you want. If you really want to color it by yourself or can't get to a salon, you should use a good quality hair dye and test a small sample at first, so that you could see the result before you decided!
8.How many bundles do I need?
Normally 3 bundles will be enough for a full head. But if your head size is larger than the standard or you want to make much fuller look, you can order one more bundle.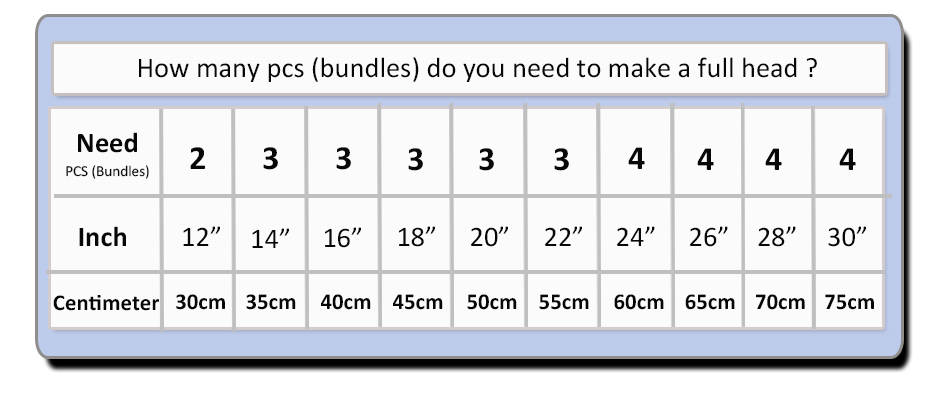 9. Why are my hair extensions getting tangled?
Your hair extensions can be tangled due to being to dryness, oil & dirt build-up. Salt-water, chlorine and not comb (wide tooth comb) out your hair daily. Make sure to wash & condition your hair at least once a week, twice a week is better. Use hydrating drops or consult your stylist for more help.
10. How long will I receive the order after payment?
Normally it takes 1-3 business days to process your order, and another 3-5 days to reach you by Fedex, UPS or DHL.
11. What's the most convenience payment method?
Paying your order by Paypal account is the most convenience and safe way. If you don't have a Paypal account, we recommend you to create a Paypal account with your credit card. It's quite easy and safe. Please Check: WWW.PAYPAL.COM
12. How to place the order online?
You can find the item you want to purchase on our website and select all the information ( such as hair length, hair color , cap construction and so on) below the option. Then you can put it into your shopping cart and finish the payment with Paypal or Western Union.
13. How to track your order after shipping out?
You'll receive an email with tracking number after you place the order. (Please leave us a valid email to ensure that you can receive the message successfully)
You can track the shipping information on DHL & FedEx website with tracking number.
DHL Website : www.dhl.com
Fedex Website: www.fedex.com