Return to Previous Page
Details
360 lace wig is a new arrival lace wig pre-sewed by 360 lace frontal & weaves. It comes with parting space around perimeter and only machine wefts on top.
Advantages of 360 lace wig :
Wider Parting Space: 4 inches in front& 1 inches at back. It can be parted easily.

More hair styles: Can be high ponytail, high buns and half up- half down styles.

More Natural Look: Comes with pre-plucked hair line & baby hair around perimeter.

More Density: Both 150%/180% available. Big density makes the hair much fuller.
| | |
| --- | --- |
| Pack | 1 Unit |
| Hair Type | 100% Indian Remy Human Hair |
| Photo Hair Length | 18'' (16'' Frontal&18'' weaves) |
| Photo Hair Color | Natural Color |
| Hair Texture | Silky Straight Hair |
| Cap Construction | 360 Lace Wig Cap |
| Made Method | Hand Tied |
| Photo Hair Density | 180%(Extra Heavy) |
| Cap Size | Medium |
| Baby Hair | Around the Perimeter |

Customer Reviews
Review by

SiSi

BEST hair hands down! Hair barely sheds and every wig I have bought from this company has had the best longevity. The hair is extremely soft and very full. This is the most natural wig I have every owned as well as the best quality.
You can buy from this site without any hesitation as this is a company that actually values their customers with good quality hair. (Posted on 12/24/2018)

Review by

Tammi

I truly love this unit. The texture is soft and it has a realistic look. I ordered the 12inch, 130 density and because my hair is thin, this is where the realistic look comes in. LOVE the hair I will definitely order again. This was my first time ordering from RPGHair but definitely will not be the last. I will recommend this website. Also wanted to say that customer service was great. I requested that the combs be removed and they sent it exactly so. I suffer from hair loss and there's really no place to attach the combs on my head. I truly appreciate their customer service, so five stars for that, there was no option for customer service. (Posted on 10/12/2018)

Review by

Kizz

Beautifully packaged. The hair is pre plucked so there is no need for any further customisation. The texture is all that and more, it doesn't tangle minimum shedding and the lace is a medium brown shade - not to hard either. I would definitely repurchase this hair! (Posted on 10/12/2018)

Review by

Toya

Absolutely love my hair the density and quality is everything. I will definatley be ordering again. (Posted on 9/4/2018)

Review by

Fiona

I waited until I had an opportunity to wear, comb through and get this wig wet. To write my review. To my surprise, the quality of this wig is outstanding. I love everything about this hair, the only problem I had with this wig, was, that I ordered the wrong cap size. But I'm not letting that stop me from wearing this fabulous hair. (Posted on 8/31/2018)

Review by

Romana

Just as I expected! Full, Beautiful!!! This is my third or forth wig from this company and I assure you it's not my last! Wasn't expecting it till Monday but it came today! I'm so pleased with their wigs!! (Posted on 8/23/2018)

Review by

Jennifer

I love love love this hair. I had to cut the bangs to fit my face shape, but the hair is amazing. I wear it everyday, and will order some more when needed. (Posted on 8/22/2018)

Review by

rachelle

I love this unit it is so soft and the edges are remarkable my only regret is I didnt buy it sooner (Posted on 6/20/2018)

Review by

Jessica

When i recived the wig i was soo excied, it is soft, its super gorgeous, i ordered a xsmall but feels like an extra large very lose on my head. (Posted on 5/24/2018)

Review by

Nieka Green

I want to say this is the best wig I've ever purchased. I'll be back and recommending Please continue to keep quality and great pricing.
(Posted on 3/11/2018)

Review by

Karen

I absolutely love this unit!! I didn't think it was thick enough until I washed it and it dried with the natural wave texture and super thick! I am happy I bought my unit from here and will be a loyal customer until I get a bad unit! #customerforlife! (Posted on 2/25/2018)

Review by

Johnson

it's soft silky, yet natural and smooth feeling. I could not help but be wowed about it. There is little to no tangle here with this here and my client has yet to complain about any shedding. I was honestly not expecting such high quality hair from online or for this cost. They have changed my mind set and because I get many people asking where to get grewt but affordable hair I'm eager to spread the word. Love it (Posted on 2/1/2018)

Review by

Jasmine

Soft, no shedding, and looks like picture. Only thing I wish it had was more more pre plucking around the edges. it already has some, but I always want more, LOL, All in all, it's worth the money. I will buy anther curly one next time!! Love it. (Posted on 1/30/2018)

Review by

Hodges

this wig is great. the quality of the hair is above and beyond what i expected. Ive been wearing this day in day out for almost two months i straighten it everyday with a heat protectant and i use argan oil shampoo and conditioner and she keeps getting better and better. I have had zero issues with matting and tangling, and the 150 density is PERFECT not too much but not too little hair. It looks like its growing right out of my head! This is a GREAT buy!!!!! (Posted on 1/29/2018)

Review by

onika

So glad I decided to buy from RPGHair!!! The hair EXCEEDED my expectations! They are not only full, they are so soft! They feel better than my own hair!!! Absolutely stunning tone of silver that is just like the picture only better!( if that makes sense!) and will be buying again!!! (Posted on 1/21/2018)

Review by

Liason

First time I've ever tried a wig and I'm glad I went with the "RPGhair" choice. Hair looks nice & feels niceI brushed it beforehand and yes, it nearly no shed . It isn't as thick as my own hair but it looks like it. The wig is actually beautiful and looks much better than other wigs I have bought in the same price range Def recommend. (Posted on 1/18/2018)

Review by

Kim

This wig was exactly what I needed. The parting of the wig has a very natural look (not too big or small). Wig has combs and adjustable straps which is perfect because my head is small. When combing through the wig I didn't not experience any shedding. I can't wait to add color to this wig. It was a great investment. Would definitely purchase again! (Posted on 1/17/2018)

Review by

Garbrianna

Don't think! Just buy! I love this product, the hair is soft and beautiful with no weird smell. I have not had any shedding or tangles. I ordered a 22" and it's a dream come true. AND I've been telling everyone I know to buy from RPG ! Even people I meet on the streets that ask me about my hair and I tell them I'm in love lol! Do it. Click the button. Put it in your cart. And BUY IT RIGHT NOW! YOU won't regret this, I didn't. ❤️️❤️❤️️❤️❤️️ (Posted on 1/16/2018)

Review by

Mashingaidze

Still wearing the hair, it's been about 2 months since worn and it is still so beautiful. Soft, still shines and great with heat. Will be ordering again and again.❤️❤️❤️ (Posted on 1/10/2018)

Review by

Barr

I used this wig for my first ever cross dress. I had some trouble figuring it out, but I've never had long hair before, and after about 30 minutes of working with it, I got it how I liked it. It is very beautiful, and I had a lot of fun with it. Easily worth the money. (Posted on 1/5/2018)

Review by

Sawi O

Sells communication was great! Shipping was great as well I order the hair Friday night & got it Tuesday afternoon. Very soft & true to the color, I've found a permanent vendor ! (Posted on 12/8/2017)

Review by

Dormy

Honestly Leo sent me messages every step of the way, the communication is phenomenal with this store. Hair came in 4 days after I ordered it which is another plus! The hair was extremely soft, I've had it for a week an I wanted to make sure I gave honest feedback. (Posted on 12/5/2017)

Review by

Abibbola

The hair feels great and shipping was fast I received the hair in 3days I recommend everyone to order this hair this is my first time ordering from this vendor and I'm very excited.....I will be ordering again. The hair doesn't shed I wish the hair was a little thicker but all in all I love it can't wait to put in on...THANKS!!!!!!! (Posted on 12/4/2017)

Review by

Mavette

Leo was amazing! He keep me updated every bit of the way. Washed the hair. Came out very soft beautiful. Shedding is a bear minimum. Will most definitely be ordering again!! (Posted on 12/1/2017)

Review by

Saya M

Leo I just received my unit and it is GORGEOUS!!!!!!!!! Thanks again for the quick shipping...I'm so excited!!! And will be referring you guys to friends and family. (Posted on 11/29/2017)

Review by

Amazan

Beautiful hair. I bought the 18" and experienced minimal shedding. Not the fullest hair but still very nice. Communication was wonderful and I was updated the whole way through the fast shipping. I would definitely buy again from here. x (Posted on 11/24/2017)

Review by

DAWN Paul

Hair is absolutely beautiful, soft and silky! Bought it for my friend and she's in loveeee with it. Joyce was very responsive and I'm definitely going to buy more hair here! (Posted on 11/23/2017)

Review by

Lagrettaaa

So pretty and soft even after styling products were used!! Thank you guys! You definitely have a repeat customer (Posted on 11/23/2017)

Review by

yves bunny

I am in love with this hair!! It's soft, doesn't shed & doesn't have an odor! Joyce is wonderful and she tracked the package with me from beginning to end; it also arrived very quickly! (Posted on 11/10/2017)

Review by

leeny

I love my hair. It's so beautiful. Leo was in contact with me the whole time even up until I received my hair. They made sure I received it and was happy. Amazing service. (Posted on 11/10/2017)

Review by

Gin Gve

Great seller. Kept me updated with tracking the whole time. Super fast delivery. The wig is nice. It's really soft and didn't have an odor. Can't wait to try it. I would definitely order from Rpghair again. (Posted on 11/10/2017)

Review by

Smith

Lovely hair really soft ...loved the gifts...great communication (Posted on 11/7/2017)

Review by

Kisesha

The hair was, and is still so soft and i wear the wig daily, there is no matting or tangling and flows and looks so natural, i love it. (Posted on 11/1/2017)

Review by

Davis

I'm very satisfied with the wig and hair quality. I will definitly order again. Thank you :) (Posted on 10/31/2017)

Review by

Sheryl Lubin

Wanted to reach out to say that I received the hair and that I absolutely love it! (Posted on 10/26/2017)

Review by

Kodak420

This wig is amazing. No shedding, still super soft and silky. I had mine installed and have been wearing it for almost 2mos. Will def be ordering again! (Posted on 10/25/2017)

Review by

Mary

I just received my wig today and I love it. The density, color, feel and the smell of wig was perfect. I have no complaints. Thank you for the excellent white glove customer service that you gave towards my last minute request in order to get my wig sooner. Many thanks, I will definitely be ordering from your company again. (Posted on 10/24/2017)

Review by

Danica

This wig is amazing so far it's sheds a bit when I brush it and the density I ordered was wrong but the hair is super silky and long! The hair feels amazing and it doesn't get to hot:) (Posted on 4/20/2017)

Review by

sweetheart

This hair is AMAZING, the delivery was fast! This hair has no smell it's not shedding(so far) this is my first time purchasing hair on this company I'm so impressed! (Posted on 2/7/2017)

Review by

Precious

I purchased this wig a month ago I washed the hair before I wore it and it has a wavy texture after you was it and flat irons beautiful, no shedding at all. The only con is all my wigs I purchase a med cap, but this med cap ran very small, will order again but will go up a size (Posted on 1/13/2017)

Review by

Asria

I absolutely love this wig! The hair is real soft and very very full!! (Posted on 1/6/2017)
Write Your Own Review
Hair Color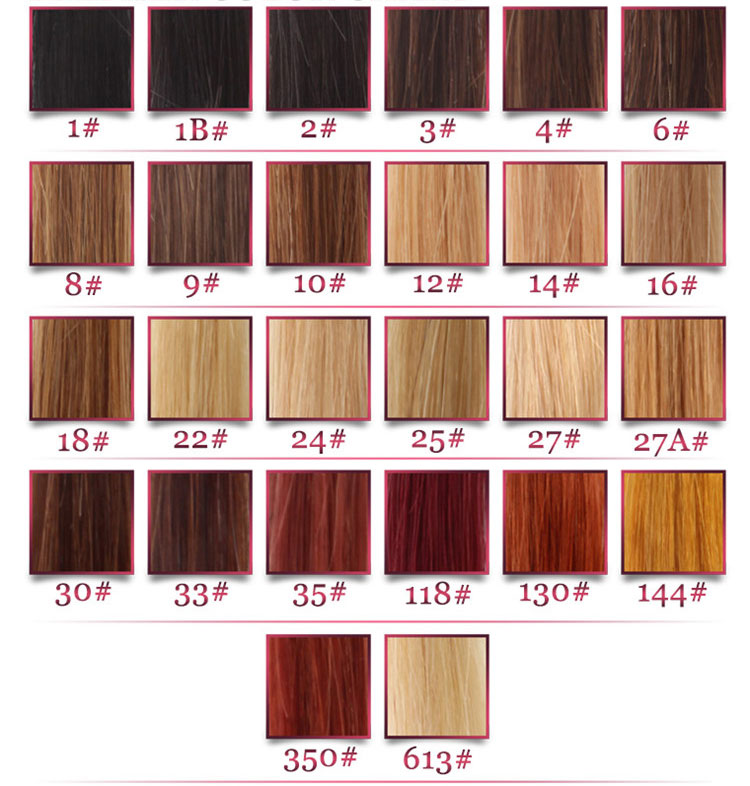 Shipping
1. We ship your order by DHL or FedEx. We do Free Shipping for all orders worldwide.
2. If your shipping address is P.O Box or APO/FPO address, we can ship your item by Post Office.
But it takes longer time to reach you,about 7-10 business days.
3. We ship all items marked as 'gift' or 'sample', and we also write a lower value on the invoice to
avoid tax/duty.If you were charged tax by your local Custom, we would like to help you to go through theCustoms.
But the tax will be paid by the buyer.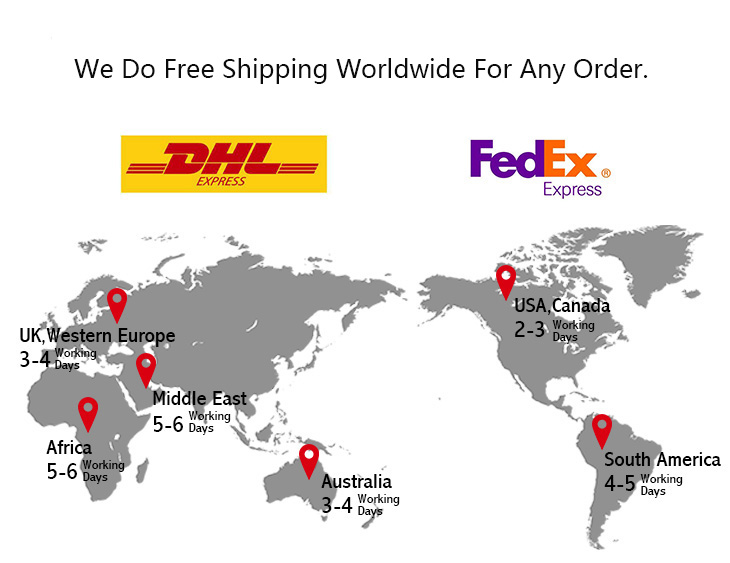 Processing Time:
A. Stock item will be sent within 48 hours after payment.
B. Custom Order for Lace Wigs:
Processing Time: 25-40 working days
Shipping time: working days
(We'll email you the custom order number and estimated delivery time after receiving your order. After the hair is ready,
we'll send you another email with tracking number. )
Tracking
Tracking number will be sent via email once the order has been arranged or shipped. So please leave us valid email address.
We share a strategic cooperation relationship with the world's popular express company DHL & FedEx. You can track your package
on the website as below,
DHL: www.dhl.com
FedEx: www.fedex.com
If you have any concerns about your order or our hair, please feel free to contact us. And we'll reply you within 24 hours. Our email
address is: [email protected]
We are more than happy to offer Exchange and Return Service if you dislike the hair you received for any reason.
Please Contact us via email within 7 days after receiving. Our email address: [email protected]
For Exchange, there is no extra fee for the first time exchange.
For Return or 2nd time Exchange, $25 shipping fee will be deducted as we paid to express company when we shipped
the item to you.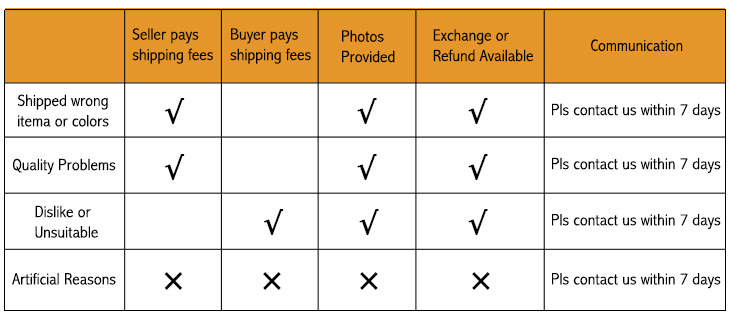 Please note that:
1. The returned item must be in its original status;
2. Items that have been worn, combed, cut or washed cannot be returned;
3. Any customized item cannot be returned.
4. Customer is responsible to pay the returned shipping fee;
5. Please contact us before shipping the item back. Otherwise, we have the
right to refuse the returned package without our permission.
Our email address: [email protected]
RPGhair Co, Ltd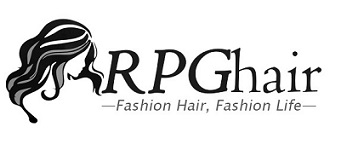 1. Are your Products made of 100% human hair?
YES. All of our products are made of 100% human hair.

2. What are Lace Front Wigs?
Lace front wigs are manufactured with a thin lace that extends from ear to ear across the hairline.
Lace front wigs are made similar to a regular ladies wig along the back and sides of the unit.
There is extra lace in the front, and you need to cut the lace along the front of the unit. The goal here is to create a new hairline. You will not cut all of the lace, as you will apply adhesive to the lace/your new hairline.
Once the unit is applied, you will have on a full hair wig - but the front of the hair wig will not be like a regular wig. The wig will appear that it is growing directly from your head.


3. How much Parting room for the lace front wig?
There is about 3 inches parting room in the front .
4. What are Full Lace Wigs?
Full lace wigs come with a base that is made entirely of lace. The lace material essentially covers the whole head even all the way to the back. Because of this, full lace wigs are more versatile because you can also style them into up-dos, braids, and many other hairstyle that are not possible with a front lace wig such as a high ponytail. It just gives you more natural flexibility.


5. What's Natural Hairline & Widow Peak Hairline?
The natural hairline is straight hairline, and it grows out of the scalp straightly above forehead. The Widow's peak hairline is 'V' shape. The stock unit comes with Natural Hairline.




6. Do you charge any extra for baby hairs?
No, it's free of charge. The stock units all have baby hair around the perimeter.

7. Can I color the hair?
Yes. The hair can be colored. (If the hair color has been processed to other colors instead of Natural color, please don't do bleaching or dying.)
But we highly recommend you having your hairdresser dye the hair because they are more professional and you could get the color you want. If you really want to color it by yourself or can't get to a salon, you should use a good quality hair dye and test a small sample at first, so that you could see the result before you decided!
8.How many bundles do I need?
Normally 3 bundles will be enough for a full head. But if your head size is larger than the standard or you want to make much fuller look, you can order one more bundle.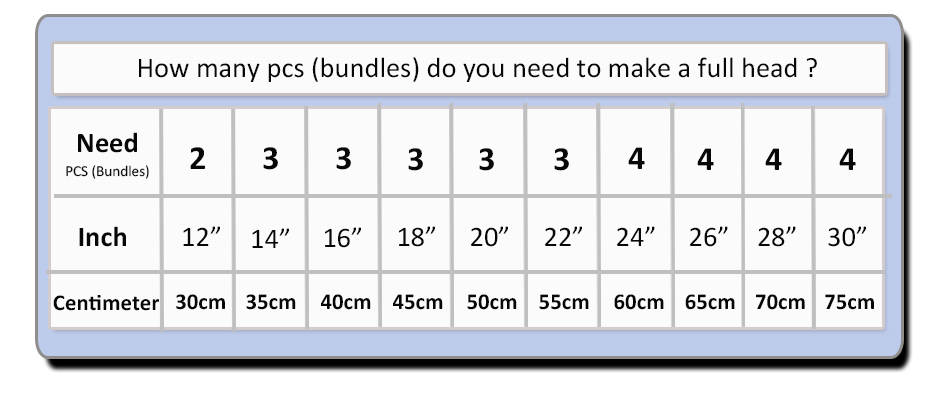 9. Why are my hair extensions getting tangled?
Your hair extensions can be tangled due to being to dryness, oil & dirt build-up. Salt-water, chlorine and not comb (wide tooth comb) out your hair daily. Make sure to wash & condition your hair at least once a week, twice a week is better. Use hydrating drops or consult your stylist for more help.
10. How long will I receive the order after payment?
Normally it takes 1-3 business days to process your order, and another 3-5 days to reach you by Fedex, UPS or DHL.
11. What's the most convenience payment method?
Paying your order by Paypal account is the most convenience and safe way. If you don't have a Paypal account, we recommend you to create a Paypal account with your credit card. It's quite easy and safe. Please Check: WWW.PAYPAL.COM
12. How to place the order online?
You can find the item you want to purchase on our website and select all the information ( such as hair length, hair color , cap construction and so on) below the option. Then you can put it into your shopping cart and finish the payment with Paypal or Western Union.
13. How to track your order after shipping out?
You'll receive an email with tracking number after you place the order. (Please leave us a valid email to ensure that you can receive the message successfully)
You can track the shipping information on DHL & FedEx website with tracking number.
DHL Website : www.dhl.com
Fedex Website: www.fedex.com